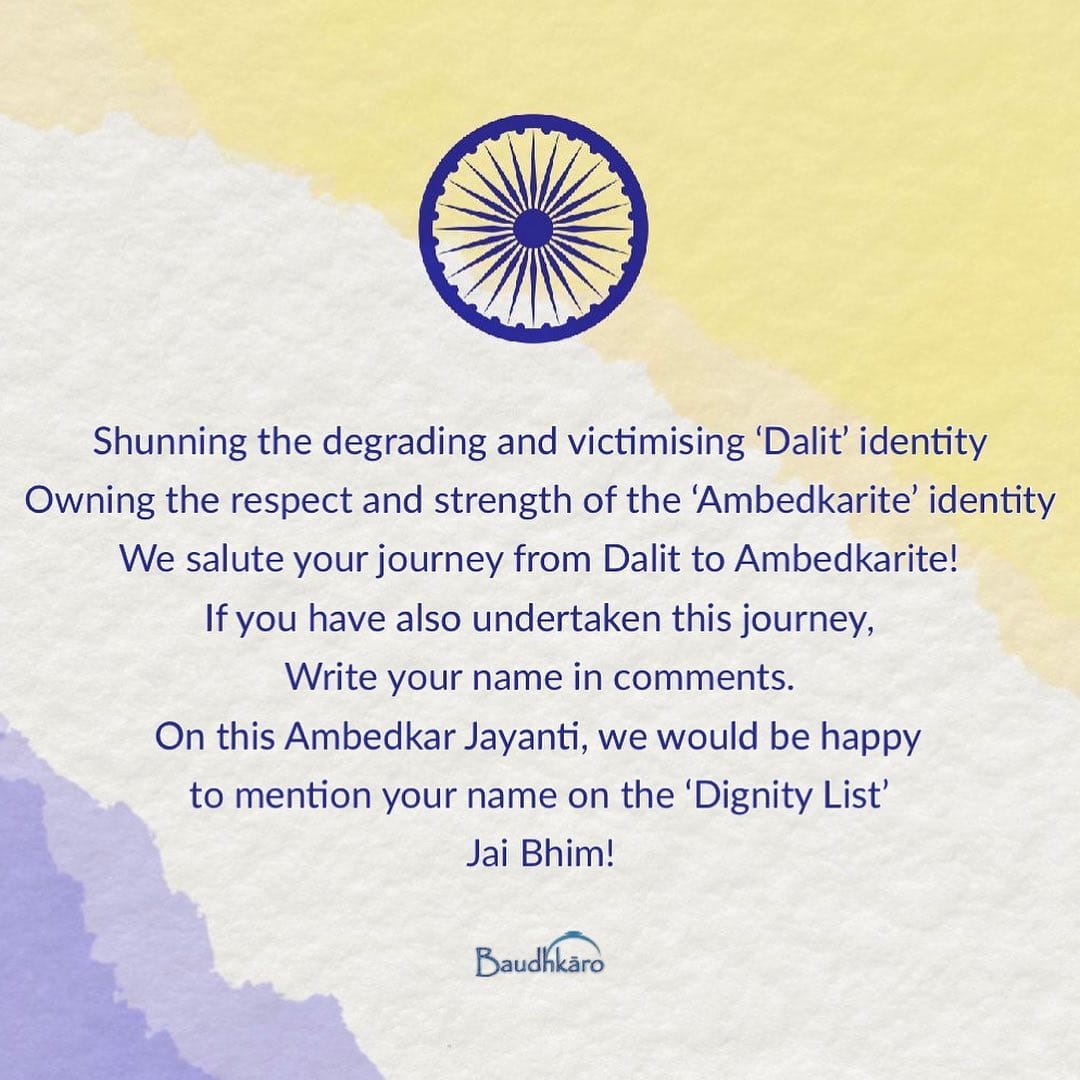 Just before the 131st Birthday Celebrations of Dr. Babasaheb Ambedkar, we had asked for the names of those who have rejected the Dalit identity and embraced the Ambedkarite identity.
We are ecstatic to say that we received an overwhelming response on social media and are happy to present the list.
This list is an encouragement to all those who are still wondering if the Ambedkarite movement is strengthening and need a nudge to discard the humiliating identity of 'dalit'.
We hope that in the years to come, this 'Dignity List' keeps increasing in length and we can form a strong, empowered, enlightened Sangha that will pull Babasaheb's Caravan forward.
We salute to the Ambedkarite leaders including, Wamandada Kardak, Raja Dhale, Dr. Yashwant Manohar, Kadubai Kharat etc. who've always rejected the casteist Dalit identity identity and propagated the identity of self-respect and power which is – 'Ambedkarite'.
Increasing Self Respect in people is the sign of increasing Ambedkarite Consciousness. This is what is needed for creating the India of Babasaheb.
Happy Birthday, Babasaheb! This is one of our gifts to you!
A dignified Jai Bhim to all those on the list-
Abhay Kamble
Aditya
Adv. Sandip Ranjana Polas Dhanwade
Ajay Jawale
Ajinkya Murumkar
Ajit Londhe
Ajit Pandurang Jadhav
Akash Chintaman Jawanjal
Akshay Athwale
Akshay Ranaware
Amardeep Tayade
Amit Sambhaji Rokade
Amitkumar Vasantrao Saatdive
Amol More
Anand
Anand Diwakar Chakranarayn
Anil Hankare
Anil Kailas Takankhar
Ankit Sarode
Ankush Ramteke
Anna Shriram
Anuj Ashok Bhalerao
Arhant Path
Ashish Ghutke
Ashok Arun
Ashok Shibaji Jawale
Ashok Tembhare
Atul Salve 'Vajrapani'
Audumbar Rikibe
Avinash Bodhi
Babaji Ramji Kedare
Babasaheb Tombre
Bansode Dnyaneshwar
Bhanudas
Bharatbhushan Narendekar
Chandrashekhar Bhagwat
Chetan
Devraj Laxman Ballari
Dhananjay Sontakke
Dinesh Asha Jagannath More
Dineshkumar Rathod
Dipa Sawant
Dipali Vijay Daksh
Dr. Chandrakant Janardhan Salve
Dr. Sandeep Dive
Ekta Snehal Rodage
Ganesh Khuntaji Tayade
Ganesh Tribhuvan
Garima Pragya
Gautam
Gautami Ganapatrao Sable
Gitesh Shende
Gourishankar
Hemant Aloorkar
Hemant Aloorkar
Janrao U. F.
Jay Jadhav
Jay Sarwade
Jyotsna Sthool
Kabir Rahul Kamble
Kantibhai Maheshwari
Kapil Gaikwad
Khandu Gaikwad
Kunal Dhanawade
Lala Varma
Lalita Khandelote
Madhukar Kamble
Madhuri Sunil Gangurde
Mahadev Jadhav
Mahesh Kadam
Mahesh Sonavane
Mahima Ukey
Mala Urade
Meet Parmar
Nagsen Nagvanshi
Narendra Jadhav
Navinya Sanjay Dehade
Neeta Sntosh Howal
Nikhil Jagdale
Nilesh Bagde
Nilesh Jamnik
Nilesh Manwatkar
Nilesh Morey
Nileshkumar Gawai
Ninad Gade
Nitin Gaikwad
Nitin Khandagle
Piyush Paithane
Piyush Ranjan
Prabodh Khobragade
Pradeep Jadhav
Pradip Shelar
Pradnesh Meshram
Pradnya Kashinath Sonawane
Prakash Kamble
Prakash Tidke
Pramod Yelwe
Pranay Dipak Sonavane
Pranish Shinde
Praphulla Kamble
Prashant Bagde
Pravrutti Walke
Print Borkar Shenda
Pritam Kedare
Priya Sonkamble
Priyadarshini Londhe
Priyanka Pawan Meshram
Raghu G. Baudh
Rahul Devkant
Rahul Herole
Raj Bansod
Raj Hiwale
Raj Mahore
Rajesh Kumar
Raju Kamble
Ravindra Kamble
Ritvik Sakpal
Rohit Vinchurkar
Rushikesh Karande
Sachin Ambade
Sachin Dharnedhkar
Sachin Mate
Sachin Wahurwagh
Sachin Wardhe
Sagar
Samadhan Suradkar
Samrat Gangadhar Dandge
Samyak Samudre
Sanchit Dongre
Sandeep Kamble
Sandeep Kumar Jaisal
Sandesh Narnaware
Sanghapal Khandare
Sangharsh Gore
Sangram Kamble
Santosh Ukey
Santosh Umesh Kamble
Satish Khobragade
Satish Yadavrao Dabhade
Savita Dhamgaye
Selva
Shailendra Behere
Shankar Kharat
Shilpkar Dhanraj Dongre
Shrikant Muchchhindra Kamble
Shuddhodhan Bhotmange
Sonam
Sonkamble Amol
Sudhakar Pakhale
Sudhir Fulke
Sukeshini Naik
Sumedh Jadhav
Sumeet Jadhav
Sunil Anant Sonone
Sunil Dagadu Jadhav
Sunil Dhondi Chandoskar
Sunil Suradkar
Suprit Sagar Nimbalkar
Suresh Khandekar
Suryakant Dhawale
Susaman Asur
Swapnil Khobragade
Tarun Whavle
Tejas Jamnik
Trisharan Gaikwad Patil
Uma Kharat
Vakil
Vandana Gangurde
Vijay Bhagat
Vijay Bharshankar
Vikram More
Vilas Kamble
Vinit Kishor
Vishal Gadwe
Vishal Uttam Shivsharan
Vivek Sampat Netavate
Yogesh Sonawane